Project Title

River Road Wet Weather Treatment Facility

Client

City of Salem Oregon

Location

Salem, Oregon
Project Scope
Development of a new water treatment facility that blends with the surrounding  park. This structure is located in a city park and the client did not want the treatment plant consume all of the park property.    
Project Details 
Structural Engineer Chad Malone was lead structural engineer for this project.
Worked with client, electrical, mechanical, process engineers and Architects to provide a building that met the facility needs and the desired look leaving a relatively small foot print as desired by the City of Salem's Parks department.
This structure is one of the first self contained treatment structures in the in the U.S. All of the following are housed under one roof: a Screening facility, Actiflo System, (2) Settling Basins, (2) Mixing Basins, the Chemical Treatment Equipment,  V. Treatment System, and a Diversion Structure.
The Screening channels are at grade and extend to 15ft above grade. After the fluid exits the screening channels it the fluid travels through the Kruger Actiflo Process and channels down to the base of the Settling and Mixing Basins.
The Settling Basin and Mixing Basins start at 15ft below grade and extend up to 15ft above grade.
Fluid exits the Basins through a channel leading into the UV System. The UV System is located in a channel that spans above the maintenance room to the diversion structure. The Diversion Structure diverts the fluid into 3 different pipelines that exit the structure.
All channels and basins have concrete covers and hatches rated for 400 pounds per square foot and allow for the top floor of the building to be occupied space. The adjacent photo shows the usable space above the Settling and Mixing Basins.
The large steel beams supporting the roof span up to 110 feet and support the 3 ton monorails attached below them as seen in the adjacent photo.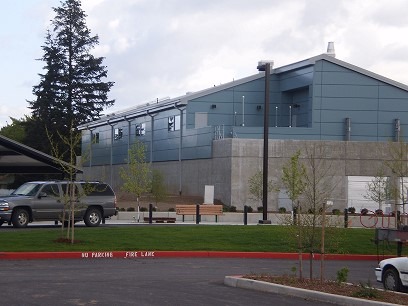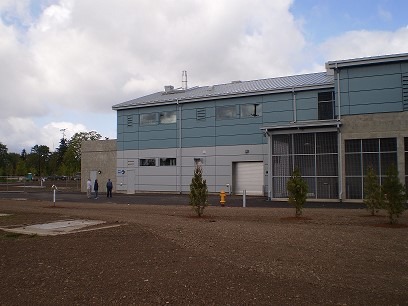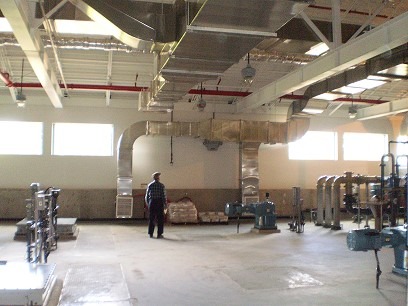 River Road Wet Weather Treatment Facility
Updated on 2018-03-09T08:05:59+00:00, by ted.